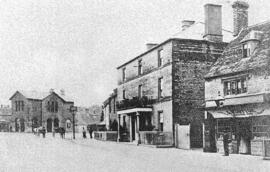 BCA - 2021.2552
Item
c1880-1960
This is the original Duttons shop in Bridge Street somewhere about 1880. Note at this time there were just two windows, not four that are there today.
In the second picture you can see George Dutton on the left and the 15 year old boy is William Mathews who a few years later bought the shop from George. George was not brilliant at running a shop but the Midland Bank established a counter within it which George ran and he was very good at figures. When the bank took over the premises next door to the butcher, he moved to be the fulltime teller and that's when he sold the shop to William.
The third picture was taken in 1960. Note the cycle rack stand. Dr Bullen's wife is on the left of the picture.
Bampton Community Archive