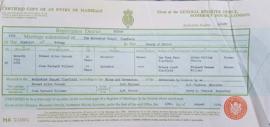 Conveyance of South Terrace and Wedding Cert. Joan Willmer and Ernest Pocock
BCA - 2022.3808
Item
1951
Marriage Certificate of Ernest Allen Pocock of Yew Tree Farm, Clanfield and Joan Barnard Willmer of Friars Court , Clanfield.
Their Fathers Allen William Pocock and Richard Newman Willmer were both farmers.
They married at the Methodist Chapel in Clanfield AR Hopkins, was Minister and Harry A Steptoe was Registrar. 1951.
Abstract of the title of Mrs Mary Elizabeth Willmer dated 1959 and Conveyance of South Terrace, Weald - a piece of land where a group of 6 cottages once stood.
Janet Westman