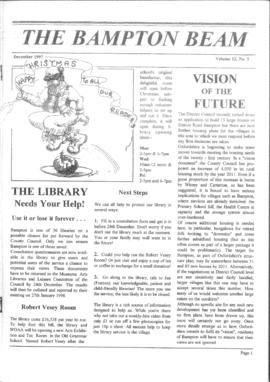 The Bampton Beam December 1997
BCA - 2020.2502
Item
December 1997
The Bampton Beam used to be produced three times a year. This issue is from December 1997. The topics covered and the advertisers are :-
ARTICLES AND NOTICES
The Library Needs Your Help – use it or lose it forever…
Robert Vesey Room
Vision of the Future – housing planning news
Bampton Village Hall by Susan Phillips
Treasure Island – Oxfordshire Touring Company
Friends of St Mary's Christmas Quiz
Church Services at Christmas
Friends of St Mary's Update
Christmas Greetings from 1944 – card sent to Mrs Edie Quick from her sister Mrs Louie Weston's husband Tom who was in the army in Italy
Remembrance in Bampton
Bampton's Traffic Calming Scheme Overwhelmingly Approved by Residents by Roger Howard, Parish Councillor
Witney and District Carers
Bampton Carers Group
Minibus
Carers Week
Carers Christmas Party
Health Helpline targets people in rural areas
Dialability and the Disabled Living Centre
West Oxon Citizen Advocacy
Oxfordshire children needing your help – Family Placement Teas
Architecture Around Bampton, written and drawn by Gilbert Marsh
Do you want a crime free village? Village Watch scheme
What's Been and What's to Come?
Bampton Gardening Club
The SPAJERS
Bampton Pumpkin Club
District Council News from Jonathan Phillips
North East Carterton Development
North East Witney Development
Oxfordshire County Council Structure Plan 1996-2011
Planning Appeals
District Council Budgets 1998/99
Youth Club under threat
Bampton Bill – cartoon
Local Bampton Man, Tim Green in Three Day RAC Rally
Bampton Recreation Ground
Bampton Boys FC, 'The Bees'
Bampton Tennis Club
Bampton-in-the-Bush Cricket Club
Basketball
Bampton Cubs and Scouts
Notice Board
Bampton Bush Centre
Amnesty International
Bampton Exhibition Foundation
Whist Drive – Bampton Fire Service
Bampton Gardening Club
The Bampton Appraisal
Guess who has had a driving licence for 70 years in December? Answer in April's issue of The Beam
The Burford Singers
Clanfield Historical Society
Bampton Pre-School Playgroup
Bampton Small Business Association
Bampton Youth Centre
Bampton Welfare Trust
Macmillan Cancer Relief, Bampton, Faringdon and Carterton
The Children's Society
The Mummers are about once more at Christmas – beware, by Don Rouse
Use Them or Lose Them Campaign – support local small businesses
"Posh Spice", The Food Page by Gilly French
Letters to the Editor
Great Response to Fire Alarm – three new fire fighters have qualified for duty
Bampton author's new book, 'Can Anyone See Bermuda' by A S Jackson to be published by Cirrus Association in December
Volunteer Link-Up
Letters to Auntie Beam
Gardening Life by 'Edie Bindweed'
Bampton Methodist Chapel
A Farewell to Mr Temple – John Temple closed his hardware store in the Market Place on 21 November 1997 and has retired to a well-earned rest in Ampney Orchard
Pumpkin Club Bingo
Out of Work Farmer -Turned Agriculture Correspondent – by Don Rouse
West Oxfordshire Arts Association News and Events
Crossword
Volunteer Reading Help
Diary of Forthcoming Events
Bampton Directory 1997
Support Bampton Facilities – The Library needs your help!
LIST OF ADVERTIZERS
Temple's Bampton Ltd, Builders Merchants, Hardware, Fancy Goods and Toys
G A J Soame & Associates, planning consultancy and architecture and property services
Andrew Bowman, Master Thatcher
Chennells, hairdressers
Grey Gables Garage
Farmington Stone
Edby Vines, producers of English Wines and Vine Supplier
Market Square Garage
N Woodley, building maintenance
The Appliance Doctor
Philippa Rayne, osteopath, Lesley Mellin, reflexologist/aromatherapist, Fiona Geary, physiotherapist
E Taylor & Son, funeral directors
Adrian Dunsby, carpenter
Bampton Fax Bureau at Emmie's Newsagents
Curtain Choice
Bampton Small Business Association Late Night Shopping and Craft Fair
Community Care
Beamtech video, TV and Monitor Services
The Crop Shop Too, hairdressers
R Cooper, builders, painters, carpentry, joinery, general repairs and dry stone walling
Theatre Express Performing Arts Schools and Theatre Company
The Pitstop and Oxford Carb Services
Bubbles dog grooming
Danetree veterinary surgeons
Londis community shop
Abbey Properties, estate agents
The Romany Inn
A Simmonds, the old-fashioned village store
Electric Vehicles Ltd
Homers mobile vehicle repairs and servicing
Bampton Community Archive