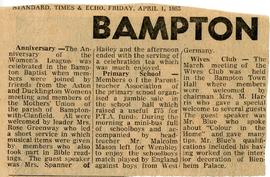 Women's League & Mothers' Union hold joint meeting. PTA jumble sale. Wives Club monthly meeting
BCA - 2021.2544
Item
April 1st 1983
This newspaper cutting is from April 1st 1983.
The anniversary of the Women's League was celebrated by joining with the Mothers' Union for prayers and a celebration tea.
The PTA held a bazaar and raised £75 for their funds which in 1983 was a good amount of money. The same day head teacher Malcolm Mason took some of the school's boy to Wembley to see the schoolboys' match against Germany.
The wives club monthly meeting had a special speaker called Mr Blue who talked about colour in the home; he had previously worked on the interior of Blenheim Palace.
Bampton Community Archive