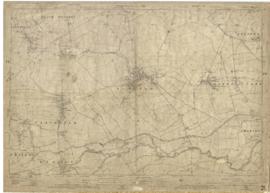 1922 map of Clanfield, Alvescot, Black Bourton, Grafton, Bampton, Aston, Cote & Chimney
BCA - 2020.2399
Item
1922
This map was produced in 1922 and shows the field system as well as the parliamentary boundaries as at 1918.
There are many interesting notes written on in pencil. The water tower and gas works along the Aston Road were in existence. The allotment gardens NW of Beam Cottage are labelled as is the gravel pit to the SW of Beam Cottage.
There are no houses to the north of New Road and none to the south of it going east from Bushey Row.
Rushy Weir is shown clearly as is the tow path to the south side of the river Thames.
Bampton Community Archive