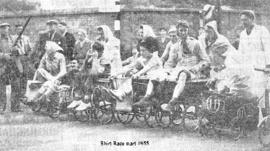 Shirt Races in 1955, c1965 and 1989
BCA - 2022.3823
Part
1955 1989
These three pictures show the Shirt Race over several years. The first race ever took place in 1953 to celebrate the Coronation of Queen Elizabeth II. All the contestants wore long night shirts hence the name.
The children's race is seen by the bridge in Buckland Road. In those days the race started by The Swan Inn just beyond the bridge on the left.
In later years, the night shirts were done away with and with fewer and fewer prams available, the modes of transport have varied and the costumes are now so good there is a competition before the races to judge the best one.
Janet Rouse