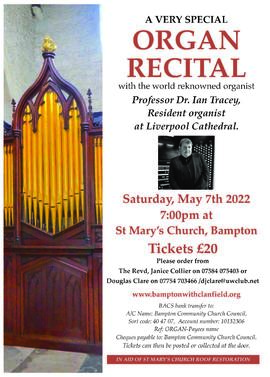 Organ Recital St Mary's Church Bampton
BCA - 2023.4055
Item
2022
Poster advertising the A Very Special Organ Recital by Professor Dr Ian Tracey, Resident Organist at Liverpool Cathedral.
Held on 7th May 2022 in aid of the Roof restoration on St Mary's Church.
Dr Ian Tracey resident organist at Liverpool Anglican Cathedral since 1980. He and the vicar, Rev'd Canon Janice Collier have been friends since they were teenagers in Liverpool and Ian willingly came to give a fantastic organ recital on the very newly restored and enhanced 1812 church organ, to help raise funds for the roof appeal.
Janet Westman