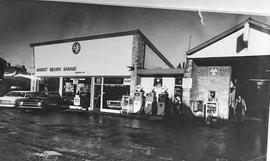 BCA - 2022.3961
Item
1980?
Comments by Local Residents/emplyees,
Steve Pearce said: - "Worked with Tom Papworth, Jack Day, 'trickie' Taylor, Val, Alan, Dave Taylor, Tina Foreshew, and Ben Neville was a lovely man helped me so much."
Joe Stephens said: - "I think Richard Todd left his car White Aston Martin in John Tayler's Showroom at one time."
Dave Taylor said- "Think that's 'trickie' Taylor in pic; George used to be our foreman, spent years there before and after school and later years. Some wonderful memories, still go to solicitors which used to be our accessory shop when Ben Neville was there."
Rob Crew said: - "Great memories. Not just a garage, I used to get my fishing licence there."
Janet Westman