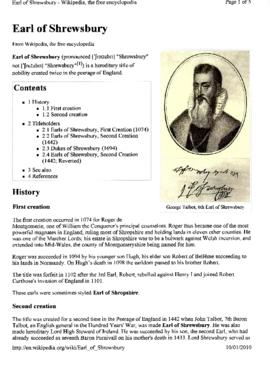 George Talbot, The 6th Earl of Shrewsbury 1528-1590
BCA - 2022.3811
Item
1528-1590
George Talbot the 6th Earl of Shrewsbury, was the only son of Francis Talbot, 5th Earl of Shrewsbury and Mary Dacre. As a young man George saw military service under Protector Somerset in the 'Rough Wooings' in Scotland and he married Gertrude Manners, daughter of the 1st Earl of Rutland, by whom he had six children, although she died in 1566. In March 1568, he married Bess of Hardwick, the wealthy widow of Sir William Cavendish of Chatsworth, who was a year older than himself.
The first creation of Earl of Shrewsbury occurred in 1074 for Roger de Montgomerie, one of William the Conqueror's principal counsellors. Roger thus became one of the most powerful magnates in England, ruling most of Shropshire and holding lands in eleven other counties, and included most of Bampton which continued to belong to the family through future generations.
Roger was succeeded in 1094 by his younger son Hugh, his elder son Robert of Belléme succeeding to his lands in Normandy. On Hugh's death in 1098 the earldom passed to his brother Robert.
More information about the Earls of Shrewsbury can be found in the pdf attached.
Janet Westman