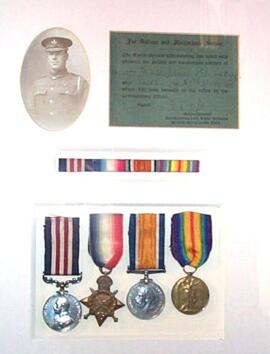 Private William Johnson Ox & Bucks Light Infantry 5th Battalion 10677. Awarded the Military Medal WWI
BCA - 2019.2096
Item
World War One
Private William Johnson Ox & Bucks Light Infantry 5th Battalion 10677 A Company. His granddaughter Pamela Smith has put together these items.
William was the first young man in Bampton to volunteer and the town awarded him a clock for this. He was also the first soldier to be awarded the Military Medal. This account by Pamela recounts his battles, the conditions, Christmas and much more.
Only five different medals were struck during the war and William was award four.
A newspaper account of the home-coming of William January 1916. William had already been award the Distinguished Conduct Medal for bravery in the field for recovering lieutenant Wood. He was met at Bampton & Brize Norton station by Mr Alfie Bryant in a car kindly lent by Mr Collett. A rapturous welcome awaited him in Bampton and he was presented with a handsome marble clock inscribed "Presented by friends in Bampton to Pte William Johnson O.B.L.I. on being awarded the DCM for gallantry in action 1915.
Bampton Community Archive