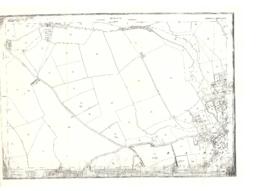 Map of Weald from Plantation south to Cowleaze Corner, east to the Elephant & Castle
BCA - 2020.2398
Item
1921
This map of 1921 covers the area from Plantation south to Cowleaze Corner and east as far as the Elephant and Castle.
What was a watercourse off the Highmoor Brook to land with The Deanery can be clearly seen and was used for fish farming.
Cobb House is the only vicarage by now, the other two houses of the three-portion being in private hands, one Churchgate house the other now called Kilmore House.
Glebelands houses were not yet built, they didn't come until the 1960s.
The lake with Weald Manor House to its left used to freeze over and the owners of the Manor House used to invite locals to skate on it. Mr & Mrs Colvile lent the field to the west of the lake to the local football club but as it wasn't large enough for the side to play in a certain league, they had to find a new home and for a while used a field at the east end of New Road.
Bampton Community Archive