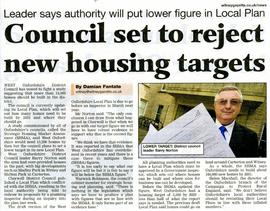 WODC vows to fight the study showing that the area should build 13,000
BCA - 2021.3002
Item
August 2014
Witney Gazette August 2014. WODC vows to fight the study showing that the area should build 13,000.
The council in August 2014 was still updating its local plan and that has left the whole area open to speculators to build large estates in areas that are known by locals to flood and where local doctors' surgeries are already so full it can take 3 weeks to get an appointment.
There is far more detail in the article.
Janet Rouse