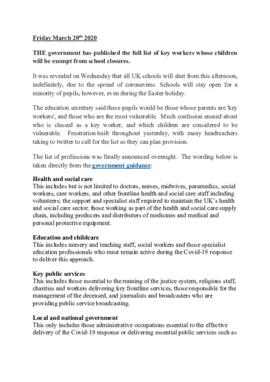 Full list of key workers whose children will be exempt from school closures
BCA - 2020.2357
Item
March 20th 2020
The outbreak of Coronavirus in 2020 has caused devastation to the way of life all around the world. New restrictions and advice were being given daily by the Prime Minister Boris Johnson and two specialist advisers each day at 5pm from the week beginning Monday March 16th 2020.
It was announced during this week that all schools were to close but the pupils of key workers could still go to nominated schools to allow their parent to continue with his or her essential job. Also, pupils who would normally have free school meals would be able to go in order to have at least one square meal per day.
On Friday, the list of key workers was published and this article from the on-line Witney Gazette lists those key workers.
An instruction from the Archbishops of Canterbury and York this week said there would be no services until the risk of catching coronavirus has passed. Weddings can take place with a maximum of 5 people attending but that did not say if it was the bride and groom and the clergy plus two, or those 3 plus 5. Not helpful.
Bampton Community Archive