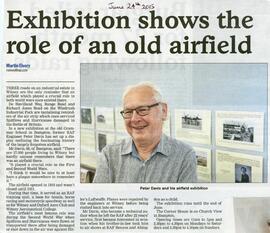 Peter Davis and his exhibition in the Old Grammar School about Witney Airfield 2015
BCA - 2019.1942
Item
summer 2015
Witney Gazette June 24th 2015.
Peter Davis from Church Street put on a detailed and very interesting exhibition for the Bampton Community Archive in the Old Grammar School, Church Close about the Witney Airfield. The only suggestion of an airfield in the area now is in the names of three local roads, De Havilland Way, Range Road and Richard Jones Road.
Damaged Spitfires and Hurricanes aircraft damaged during WWII were serviced here. The airfield was important in both WWI and WWII. It opened in 1918 and closed in 1951.
The site was used as an RAF training unit, a base for tennis, horse racing and motorcycle speedway as well as for Witney and Oxford Aero Club and Witney Aeronautical College.
The catalogue of this exhibition, full of really interesting photos of the airfield is still on sale in the Vesey room.
Bampton Community Archive